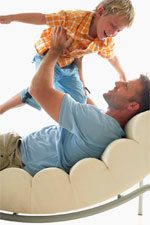 Ten pathologists with a combined experience of 236 years of interpretation of urologic specimens are responsible for prostate, bladder, and urine cytologic services. Drs. Vogel, Parker, Olympio, VanNoy, Highland, Patel, and Atkins all carry at least dual, and in some instances, triple board certification, including Cytopathology certification, important for the accurate diagnosis of urine samples. No pathologist in the practice has less than six years of experience in prostate pathology and other urologic diagnoses.
Piedmont Pathology reviews over 700 new patients' prostate biopsies annually. The rates of diagnostic interpretation are Prostate Adenocarcinoma, 42 percent; High Grade Prostatic Intraepithelial Neoplasia, 10 percent; Atypical Small Acinar Proliferation, 11 percent; Low Grade Prostatic Intraepithelial Neoplasia, 17 percent; and Benign, 58 percent.* These statistics are similar to rates reported at major academic institutions. Consultation among our pathologists occurs in 6 percent of cases annually. However, another 7 percent of cases are referred for outside consultative opinion annually. The majority of these cases sent for outside consultative opinion are patients being referred to tertiary care centers who routinely review outside pathologic interpretations. Among the cases sent for outside pathologic interpretation, there are no discrepancies with significant clinical implications.
Our experience with urine cytology is equally impressive. We average a 10 percent or less discrepancy rate between urine cytology and bladder biopsy. This is better than the published national averages. In part, this rate is achieved by correlating urine cytologies with bladder biopsies in each of the cases where the biopsy is available to review. Cases involving internal consultation are typically small foci of malignancy or cases in which there are patterns mimicking carcinoma (e.g. partial atrophy, adenosis). When there is disagreement within the group the case is sent for expert consultative opinion to our reference pathologist, Dr. Jonathan Epstein of Johns Hopkins University. Cases referred to Dr. Epstein typically are reviewed within five working days. We encourage patients to seek second opinions when the diagnosis of urologic cancer is made, and we will expedite referral of the slides and other diagnostic material to any institution in order to accommodate the patient and any requests.
Results Availability
Prostate results by 1:30 the next day.
FISH and UroVysion FISH results in 72 hours.
Cytogenetics results in 6 to 8 days.
Flow Cytometry results in 24 to 36 hours.
PCR results in 5 to 10 days.
Stone Analysis results in 72 hours.

* These statistics are based on each individual biopsy specimen. Often there is more than one diagnosis for an individual patient when there are 6-12 individual biopsy samples. 58 percent of all patients have benign diagnoses excluding High Grade PIN, Low Grade PIN, ASAP.